The decade started for me in Canberra, working in schools as a Counsellor and teaching at the CCAE as the University of Canberra was called then. I'd started my Field Study and needed something extra to keep 'balanced'. At some point Wendy Saclier [long time speech therapy colleague] and Margaret Rolfe started patchwork and quilting classes here in Curtin and I went along. I'd done the English patchwork before but now we were learning the American piecing technique and I loved it as much as the hexagon work.
We did Ohio Star, Postage Stamp, Storm at Sea, Log Cabin, Applique, Dresden Plate etc etc. There were lots of cushions made with leftovers from dressmaking efforts and lots of excursions to shops that were starting to sell patchwork fabrics. The hand embroidered non patchwork cushion here on the right came from Mum's place done by an unknown stitcher somewhere way back.
Wendy's mother Viv Mildren was also an excellent embroiderer and in her later years she and Wendy worked on beautiful quilts such as this. Many were raffled on behalf of the Royal Flying Doctor Service – a splendid organisation Viv had been supporting for years.
I started making picture quilts and the Patchwork Group which evolved from the classes started meeting in members' homes. Within a year or two we started having exhibitions, our work was hung on gallery walls, we started looking at our pieces as art forms and people started buying some of them. The group grew large and fast and soon needed to meet in bigger venues. The name was changed to Canberra Quilters and the group thrives today. Wendy and Margaret's work became recognised internationally and Margaret's books are now considered scholarly gems and can be seen here.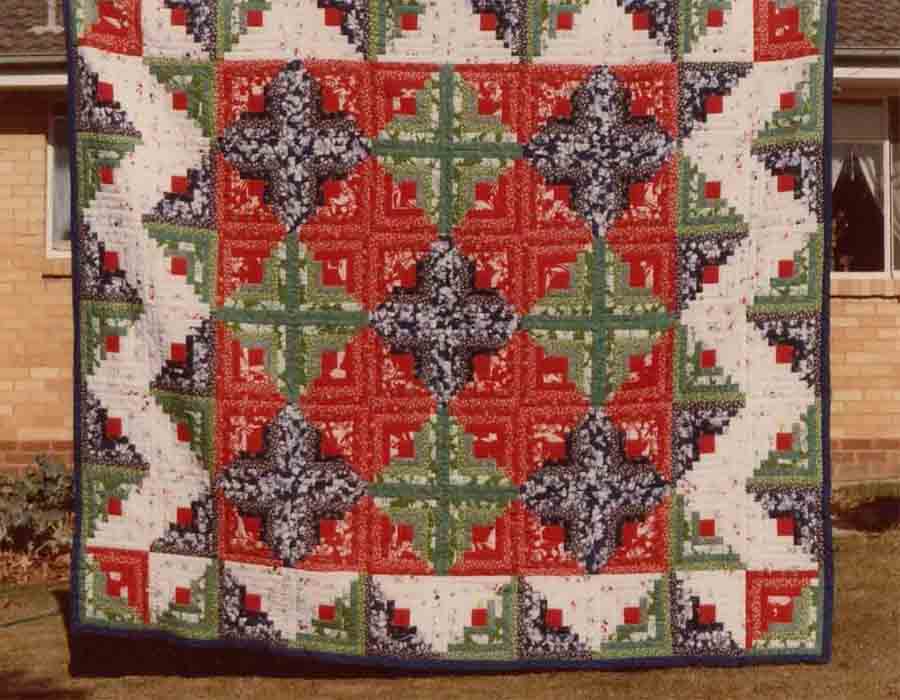 Ivan and I travelled often and on a trip north at one stage visited a 'remainders' place that had dressmaking off cuts going for a song. I took bags full. They'd been cutting out green, navy, red and white frocks that week thus determining the colours I'd work with for many months to come. I made this log cabin quilt for Janet, a friend I briefly shared a house with early on. I quilted it by hand – but I hope I did the stitching on my trusty Anker machine.
There was lots of the fabric left, plus some, so I stitched them together in various combinations of strips and quilted the results for Lisa and Cathy. We had lived with their family for a while and we were very grateful to them.
Nancy Tingey also had a large collection of fabrics, mostly viyellas. She was a stained glass artist in England before coming to Australia with her geologist husband and sons. They moved round geology sites in Australia and with young children in confined places, fabric was safer to work with than glass Nancy said! We met in the patchwork group when the family moved to Canberra – Nancy was making quilts like this one at the time. The medium is very different but stained glass windows are definitely referenced here.
Once Ivan and I were settled in our home there was room to check out what had been in boxes for a long time, including lots of fabrics from way back. Mum had kept the scraps from almost everything she and I had made from the mid-50s and passed them on to me. I went back to cutting myriads of paper shapes and tacking a slightly larger piece of fabric to each one – the English patchwork method again. Except this time the pieces were square.
This next slide show features squares of fabrics from garments made for my grandmother, mother, father, brothers and sisters till well into the 1970s then for my daughter and me in the 70s and 80s. Also fabrics picked up along the way for other projects.
We were adding some more space to the house in the early 1980s – a dining room, a sun room, new kitchen and a workroom for me. Ivan covered one whole wall of the workroom with a pin board – just right for assembling the pieces for the family quilt as it became known. Once it got to this stage it was obvious there were far too many pieces for just one quilt, so the pinks, greys, mauves and blues were used for this one with just a hint of the green, browns and oranges on the edges. The rest waited a long time – they're still waiting in fact, but it won't be another quilt. The plan is for them to become an envelope bag for the family quilt to be stored in. Watch this space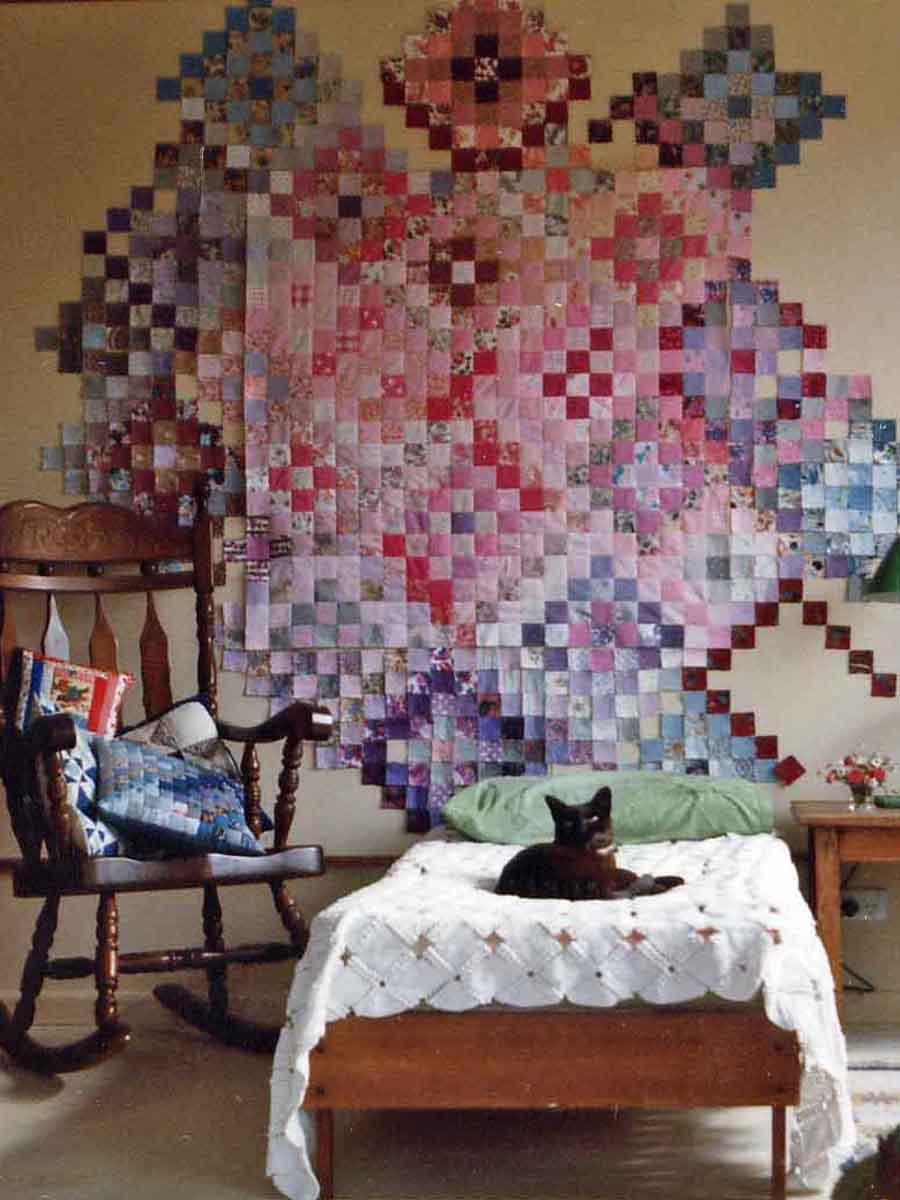 The workroom was also a temporary guestroom for a while and on this occasion Chester, our self opinionated cat at the time, thought we'd set it up for him. He did look gorgeous on the crocheted white cotton cover I'd made for just such occasions. Alas it was usually under the bay window in the sunroom and after just a year or two the cotton in the motifs in the central section rotted and I needed to remove them. The rest is sitting in a box waiting its turn in the finishing queue. Once again, watch this space.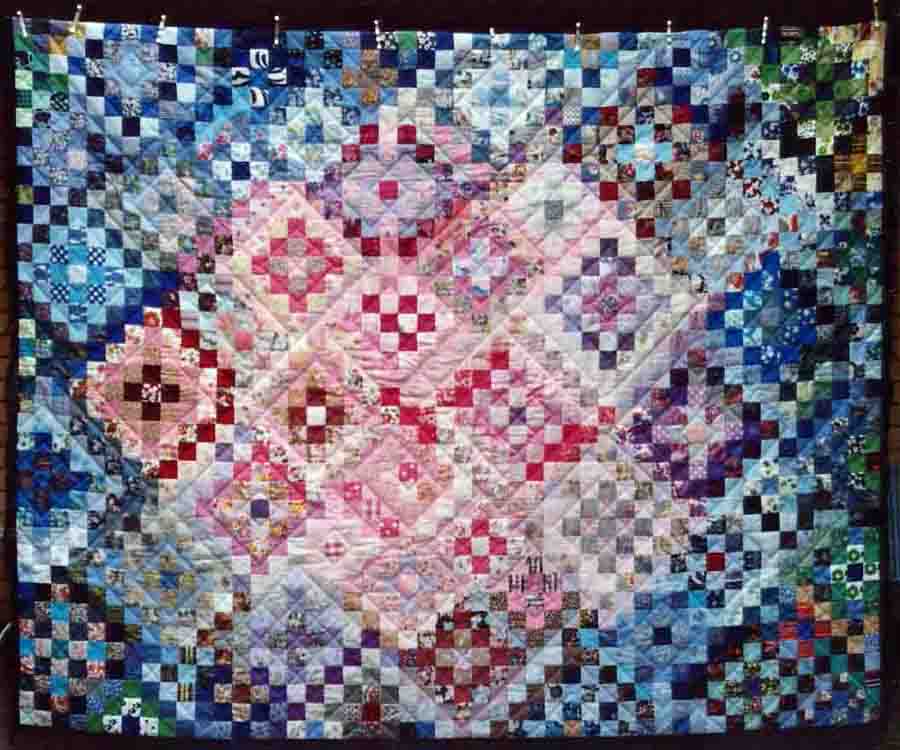 In the meantime the pink, grey, blue quilt was finished. I bordered it with a dark blue silk fringe and for many years Mum was the custodian. It often came out during family gatherings for journeys down our shared textile memory lane. It's more than just memories for us though – it, along with its envelope bag, form an important archive of one family's fabrics through that 1950s to 80s era when most of us made our own clothes, curtains, cushions etc and some of us used the leftovers to make quilts – and more cushions.