The first section of this chapter was published in Issue #4 of Vintage Made. For the sake of continuity I've included it here as a lead into the rest of the stories.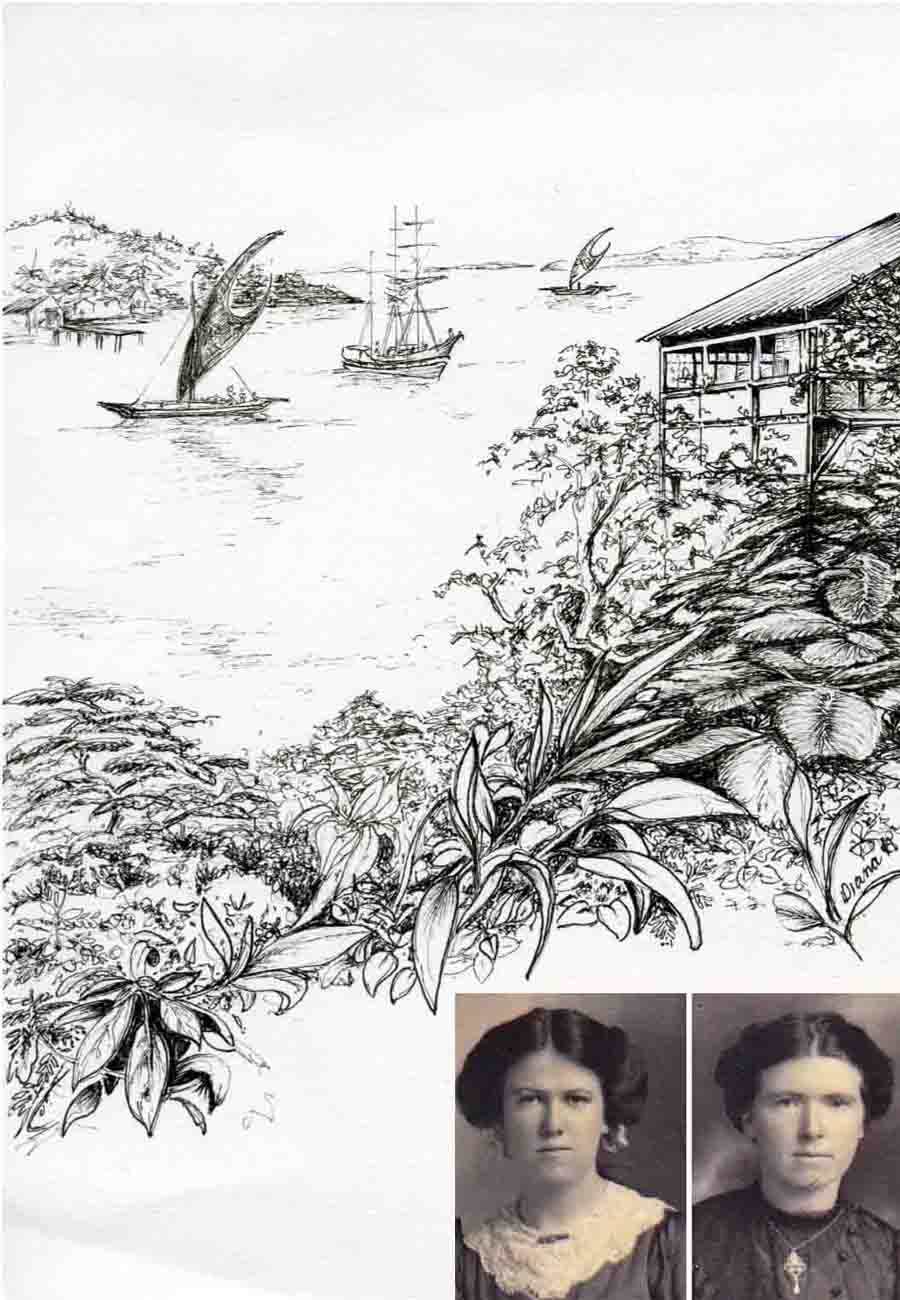 Time now to focus on Madge and Nell. We called them Nan and Aunty Nell. They were the daughters of Joanna Bradshaw, and, just as she had left her home in Scotland as a young woman for a new life across the seas in a new land, Nell and Madge left Queensland as young women to set up homes in Port Moresby, Papua. Madge was my mother's mother and Nell may as well have been my grandmother too. She'd been close by all our young lives and it was easy to decide to live with her in Brisbane from time to time as we got older. Nan lived in Caloundra in her later years and we visited her often.
I knew them as strong women, loving in their own ways, diligent, busy, devoted wives and mothers, church going, hymn singing, Scrabble playing good citizens. They visited relatives and neighbours, also people in hospital. They made porridge, biscuits and cakes, gardened, and wrote letters. Madge laughed a lot. Nell smiled often and left notes under the door such as "I called but the birds had flown". They cooked and cleaned, made clothes and sheets and bedspreads, curtains and cushions for themselves and others, played the organ at church, made jam for guild stalls, drank tea, hardly ever alcohol. Aunty Nell also drank coffee. She was the first person I ever met who drank coffee in the 1950s.
She was also the first woman in Port Moresby to own and drive a car the story goes. It was a Ford and it didn't have a clutch, but I'm getting ahead of myself.
They didn't talk much about the two world wars or the Depression in between. I learned more later from conversations that were usually prefixed 'pre-war' or 'post-war'. In time I realised how little I really knew about why those words punctuated their lives so definitively. Nell and Bob Munro were married in Cairns on the day World War 1 began in Europe. He was a carpenter who had worked for Sinclair Miller in Cairns before striking out with his brothers in Papua.
The couple had no honeymoon as such, arriving in Moresby the same day as the outbreak of war was announced. Nell spent her early years as a young wife learning how to run a household with native 'houseboys' as they were called and getting used to being on her own on many nights when Bob was on duty with the volunteer constabulary protecting Moresby from the possibility of German infiltration. Neighbouring New Guinea was a German protectorate in those days.
She presumably found the weather in tropical Papua not all that different from North Queensland. Bob had built her a house set high with verandahs and views across the harbour. It was a home in which people were always welcome and from the earliest times it was a place where meals were shared, friends yarned together, played the piano, sang, played cards and such like. It was a life where people 'made their own fun' as the saying used to go.
A frequent visitor was young Walter Bock, known as Wallie who had arrived in Moresby from Melbourne two years earlier to work in the Government Printing Office. When not at work or on volunteer duty, Wallie played tennis and cricket, was a keen photographer, played the piano at church socials and town dances, performed in concerts, and was the organist at the Ela Protestant Church. He was 28 and he was a handsome young man.
Nell's younger sister Madge Bradshaw was a handsome young woman living at home in Cairns and teaching at the Cairns Girls and Infants School. She went to church, helped around the house, visited friends and neighbours, wrote letters and postcards, played tennis, went on picnics, did fancy work and crochet, played the piano and sang in the church choir. The family home Caledonia was on the Esplanade in Cairns and on hot days when the tide was in she and her friends sometimes had a 'sea bath' as they called it.
World War 1 was a long war for everyone. It must have seemed particularly long for Madge and Wallie. She had gone to Moresby in the Christmas school holidays in 1914 to visit Nell and Bob and of course she soon met Wallie Bock. They started a romance and a correspondence that continued for the rest of their lives whenever they were apart. We have many of these letters including this one.

For the last time April the 25th 1915 would simply be Madge's 20th birthday when 'everything seems so calm and peaceful'. For the rest of her life it was also Anzac Day when she and Wally would go to church and parades mourning the loss of so many including their cousins Harry Bradshaw, and Sid and Wallie Cole.
They planned to marry on Madge's 21st birthday in 1916. But the war got in the way and kept getting in the way, as did the Spanish Flu, widespread shipping strikes and travel bans.
They were finally able to marry in Cairns in December 1919 and honeymooned in Tasmania, taking the top tier of the cake all the way to share with Wallie's parents and sibs.They returned to Moresby months later and settled into the home that Wallie had prepared on what was later called Pandora Crescent overlooking the harbour.
The white community in Moresby was small in those days and was counted in the hundreds. Quite a few, like Wallie, were in the Australian Civil Service. There were businessmen and tradesmen, churchmen and missionaries, plantation owners and miners most of them there with their families. Expats we'd call them these days. It was a somewhat stratified colonial type social set up with the white population and administration very much in charge and the indigenous people in their 'rightful place'.
There wasn't much in the way of reliable medical or dental services available although there was a 'white' hospital in town. Nell wasn't formally trained as a midwife as such but she was someone in the community who the women looked to when they were in a 'delicate condition'. She told me once how she had ridden a horse to be with a woman who was having a child somewhere out of town. Nell herself was 6 months pregnant at the time. When Madge and Wallie's first child was due Madge moved into Nell and Bob's home in Hunter St and Esmé Eleanor Jessie Bock, my mother, was born there on the 5th November 1920. She thrived, was photographed often by her doting father, and became another cherished child in the wider family and community. By this time Nell and Bob had two sons Robert [5] and Alan [3]. Madge and Wallie didn't have any more children till Esmé was 11. She thought of Robert and Alan as brothers.
When Esmé was almost four the Bock and Munro families and the wider community were rocked by an event so deeply felt it was hard for many of them to talk about, ever. As she got older Mum knew the basic story but it wasn't till she started researching many decades later that she found the details in the newspapers of the time.
Apparently my mother, aged four at the time, was inconsolable and couldn't understand what had happened to her playmate Alan. There was a bag of shriveled crocus bulbs on the laundry shelf that Madge had brought back from her mother's garden in Cairns. In the days after the tragedy she planted them in a circle and when the next rain fell the beautiful pink flowers just popped out, as they did the next time and the next. It became Esmé's memory garden. I don't know how the Munro family coped at the time but they moved from Hunter Street soon after to a new house on the waterfront. Nell never talked about any of it in all the time we knew her. Except once, much later, on a tram in Brisbane when she looked down at Mum's new baby, "I'm glad you called him Alan", she said.
—ooOoo—
The twenties saw a short boom in Moresby before the onset of the Great Depression as it was called. Extensive public works were done including new buildings and roads, kerbing and guttering and sealing of footpaths. A new power house provided electricity, phone services were extended and many new houses were built. Bob Munro would have been busy. A copper smelting works and wharf were established not far from Moresby and optimism was high. Later in the decade there was much excitement with the arrival of the first air services and the motor car. Nell's would have been one of the first Fords in town. It wasn't a status symbol for her – she needed it to help Bob ferry supplies to workplaces.
Shipping remained the main source of mail, transport and supplies to and from the Australian mainland for quite a while and the Bock and Munro families were regular users of all these services. My grandfather Wallie didn't get annual holidays. He worked right through for two or three years at a time then becoming eligible for 3 to 6 months leave. Excitement would be high when the family got on a boat to Cairns, then Brisbane, Sydney, Melbourne and finally Wynyard Tasmania where his mother Eleanor Bock lived. There was shopping to be done, cities to be explored, concerts to go to, friends and relatives to visit. Not all fun though. There were also dentists, optometrists and doctors to be consulted as needed! Funerals too sometimes. It was on one trip south in 1928 that Joanna had joined the families in Glebe in Sydney in the weeks before she died.
Wallie had five brothers and one sister, Jess who all lived in Tasmania or Victoria. In the early 1920s Jess travelled to Papua to stay with the Bocks for almost a year. During that time she met and later married Bert Rogerson. They had two daughters Vee and Phyl, lived in Moresby for several years, then moved to Woodlark Island where Bert was Administrator and where Jess was wife, mother teacher, nurse, friend ……….
There were babies born too in the Munro and Bock families in these times. Nell and Bob had two more sons David and Malcolm then their daughter Jean. Walter Bock junior was born to Madge and Wallie in 1931. Earlier that year Esmé [11] was enrolled at St Marys CEGS, a boarding school in Herberton, NQ. Robert Munro had been boarding at All Souls at Charters Towers since the mid 1920s. They were young to be separated from their families but secondary schooling was not available in Papua back then. It was tough in that most Papuan children in boarding school, including Esmé and Robert, only went home to Moresby during the long Christmas breaks. During the rest of the year they stayed with the families of friends from school at holiday time.
They all survived the Depression, the rest of the Munro children going off to boarding school in time, and by the end of the 1930s when Esmé and Robert were back in Moresby full time modern entertainments were starting to excite the community – especially the young folk. Picnics, sailing, hiking with patrol officers through jungle tracks were still popular but it was the Talkies and the jazz and swing music on gramophones with the old 78 records that had equal appeal.
Madge and Nell were acutely aware of the need to provide 'wholesome' opportunities for the young people to meet and have fun and to avoid the hotels. On the nights when the open air Talking Picture shows were on they and their friends from the church guilds ran canteens serving tea, soft drinks, savouries and sandwiches, cakes and biscuits. Frequently they also invited the young single men from the Civil Service, banks and other workplaces home in the evenings for cards, music, home cooking and such. And they always seemed to have spare writing pads, envelopes and stamps just in case any of them hadn't written home to their mothers for a while.
I don't know how good a letter writer young Eric Johnson from the Bank of New South Wales was back then but amongst all the regular visitors he quickly became a favourite of young Esmé Bock and, just as importantly, of her parents and the Munros. I don't know how aware the young people were of the political rumblings in Europe that erupted into the Second World War in September 1939. I gather that life in Moresby as in much of Australia just seemed to carry on as usual for most people for a while. But Bob Munro was worried. For several years he'd been wary of the Japanese threat to Australia and when in 1940 the banks started recalling their Papuan staff back to the mainland Bob encouraged Madge and Wallie to let Esmé and Eric marry and get away. They'd be safer in Brisbane he said.
Once again the world was at war and once again, like so many others, this family would lose their homes and possessions but far more importantly, precious loved ones.